To the amusement of a large number of progressively thinking people, the Supreme Court invalidated the practice of triple talaq as it pronounced the landmark judgement in Shayara Bano vs Union of India.  While much was made of the fact that the five judges represented five different faiths, there was less comment that not one among them was a woman.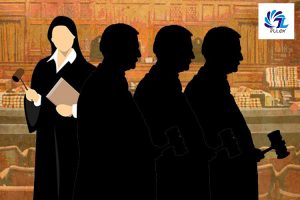 Then again, a nine judge's bench in a separate judgement declared that privacy is a fundamental right. Not one of the nine was a woman.
There are three woman judges among the 24 High Courts at present. The Supreme Court of India came into existence in 1950. Since then, until today, only 8 women have ever been appointed judges of the Supreme Court.
It took the court 39 years to get its first woman Supreme Court Judge, Fathima Beevi, who was appointed in 1989 till 1992. It took another five years for the appointment of the second woman judge, Sujata V. Manohar, in 1994. In the 24 years since, only six more women have been appointed Supreme Court judges.
Women judges and advocates face a lot of problems in their careers. They have to face rough situations and go through tough conditions to reach the high levels.  Women are not expected to be aggressive, and if they are, they are branded as cantankerous or rude. "If a male lawyer replies in a certain manner to a judge, it is usually taken in the stride. But if the same things were to be said by a woman, it becomes a topic of discussion for the bar or bench, and not in a pleasant way" The attitude of clients is also not very encouraging. The clients want to get the case file prepared by a woman lawyer, but wanting their case to be argued by a male lawyer. Also, women lawyers are seen as suited to handle family law cases and social issues, and not trusted with high stake cases. Women lawyers have to be extra careful about how should they dress up. Women judges are also at the receiving end of sexism. There have been instances of losing male lawyers foul-mouthing them. There is also the issue of sexual harassment of women in the field, and this is said to be an important reason why women leave the profession. It is ironic that the Supreme Court, which issued the Vishaka guidelines for protection of women against sexual harassment at the workplace in 1997, set up a committee only in 2013 for Supreme Court Bar Association to deal with complaints of female advocates as required by its own guidelines.
The experience of females has not been really included in our laws. For example: – The lone female judge was not included even in Shayara Bano (2017) on the multi-religious bench. Justice Markanday Katju in  D. Velasamy (2010) had termed a second Hindu wife as 'mistress' and 'keep', and thus not entitled to maintenance. But in 2011, another bench which included a female judge, Justice Gyan Sudha Mishra, opined that a deserted wife is entitled to marriage regardless of validity of her marriage.
The Supreme Court has appointed three women judges in the 68 year old history. Government of India has appointed Justice Indira Banerjee, Justice R. Banumathi and Justice Mrs. Indu Malhotra in the Supreme Court. But they will still constitute an abysmal 10% of the total sanctioned strength of the apex court i.e. 31. As for the total strength of women judges in Indian high courts, it's less than 12%. So, one can hope the skewed gender representation to be fixed if the government keeps on taking such decisions and propose certain terms to the collegiums board. The existing 10% of women judges in the Supreme Court is not acceptable and is disturbing. Consensus must be built by the government within the collegium to develop an institutional advisory mechanism that will involve all existing women Supreme Court judges and women chief justices of High Courts when appointments are made for higher judiciary.
There is a need to flip the coin and see the other part. Indian judiciary has been dominated by males since decades and now the scenario needs to be transformed. Developing India needs an ideal situation where fifty percent representation would be provided to both males and females. Looking at the history where females were suppressed in this profession, India would grow the day when a female would be the Chief Justice of India. Still country seeks to have a women representative sitting on the highest judicial chair.
By Kajal Agarwal, Intern, TRULEX
Date: 22nd November 2018